Where on this planet would you find grown men throwing Tuna?
Towns lining up to throw a thong and proudly boast if they win?
<-These are thongs.
How hard can it be throwing a Mallee root? 
Where would a boat race be cancelled because the river had water in it?
A few years ago Alice Springs canceled the race due to water in the river.
And where would you be expected to build a boat out of beer cans.  The only rule is you must have drunk the contents.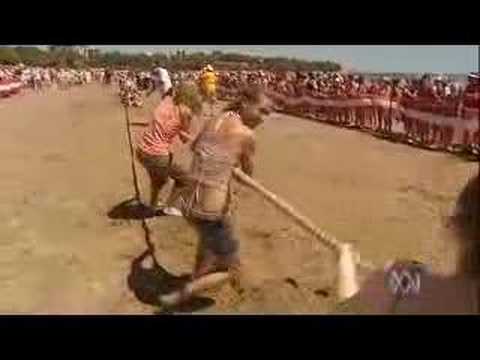 The Darwin Beer Can Regata began as a way to clear up rubbish left by workmen while rebuilding Darwin after cyclone Tracey flatterned it. Thinking outside the square.
Australia of course. 
We can be a mad lot, whether its the sun or just our love of fun maybe any excuse to party will do. We do have some strange ways to enjoy ourselves making the most out of our surroundings.
We work hard, fight hard and play hard, somethings are typically Australian.
What is typical about you home?
What makes your country unique?