Hi from surreal Dubai flower folk. Jim here still recovering from witnessing Nakheel's iconic palm island development launch at The 1.5-billion-dollar "Atlantis, The Palm". Shrugging off the global financial crisis, Dubai toasted a new luxury hotel with a 30 million dollar bash attended by film stars and sporting greats and marked by a spectacular fireworks display – talk about an alternative way to address the global recession: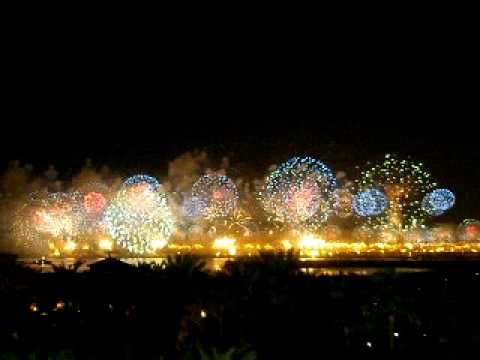 More than 2,000 world celebrities were invited to the event, which began Thursday night and continued into Friday. Among those who showed up for what the local press described as the "party of the decade" were Hollywood stars Robert de Niro, Charlize Theron, Mischa Barton and Wesley Snipes.
Other notables who walked the red carpet at the  included singers Kylie Minogue, who performed before the fireworks display, Shirley Bassey & Bollywood star Priyanka Chopra and catwalk model Yasmin Le Bon.
Located at the trunk-top of the Palm Jumeirah, one of three palm-shaped islands, Atlantis occupies the entire central part of a huge breakwater and is opulence beyond anything I've ever seen.
Is it harsh to view Dubai as having………….
The environmental irresponsibility of Las Vegas, with the megalomaniacal social control of Disneyworld, and the government-sanctioned slave labour of India, all rolled up into a giant mess and inflated with oil money to the point of being visible from the moon.
Or am I having a bad day? How else could I sum this place up? I choose to live here and am determined to make a difference here, despite the bling and inequality around me……
….as I learn about the Atlantis hotel, built by 2,500 Indian labourers and boasting the largest waterpark in the Middle East and a gigantic aquarium in which 65,000 fish, along with an enormous whale shark, swim in 11 million litres of water.
I wonder how many of the labourers were at the launch party?
Dubai has pulled it off in becoming a regional business and tourism hub, begins to feel the heat of the global financial meltdown with oil around the $50 per barrel mark. The wealthy government of the United Arab Emirates has earmarked a 32.6 billion dollar credit facility to shore up confidence in its banking sector but has failed to encourage banks to continue financing the real estate sector, a major engine of Dubai's rapid economic growth over the past few years.
The government-controlled Nakheel have just announced that it is scaling down its activities (15% of staff will GO!) , although the two other iconic palm-shaped islands are far from being complete. In a sign of serious concern, Dubai set up Wednesday a high-profile committee to assess the impact of the crisis on the emirate's economy.
"We cannot be in a state of denial about the challenges," said Nasser al-Shaikh, general director of Dubai's Department of Finance announcing the forming of the committee.
Kerzner's company also recently laid off 800 of its employees at Paradise Island Atlantis Resort in the Bahamas because of a sharp drop in the number of American visitors.
Those financial concerns were however put aside on Thursday night for the memorable party in this Muslim, yet very open, emirate, where local dignitaries in traditional white tunics, and women in black cover-all abayas mingled with women in fashionable revealing dresses, while alcohol flowed like water.
Fireworks which were said by organisers to be seven times larger than this year's Olympic Games opening ceremony in Beijing, lit up the sky along the sea front of Dubai, erupting from every branch of the palm island.
This firework display appears to have reached every corner of the globe with a MISSION ACCOMPLISHED as all that money went up in smoke. I ask you did you see or read about the event where you are AND what else could that money have been spent on?
Do tell and re assure me that this place has indeed lost the plot! How can Dubai justify such an over-the-top display of wealth and extravagance in the midst of a global economic crisis? Now move away from the area and ensure your pets are indoors as this post could get messy!