200mm = 20cm = 10 inches of rain in less than two hours, 11 million litres of water in the City tunnel, 200,000+ homes without power, hail stones the size of Cricket Balls, 6,000 homes totally beyond repair, thousands evacuated, hundreds rescued, 25 schools closed many needing to be partly rebuilt.
And that's only the small statistics.
No its not the latest Disaster movie!
.
Welcome to Queensland.
Natural Disaster Zone!
3000 Lightening strikes in 2 hours. Who needs Special Effects when nature provides a show like this.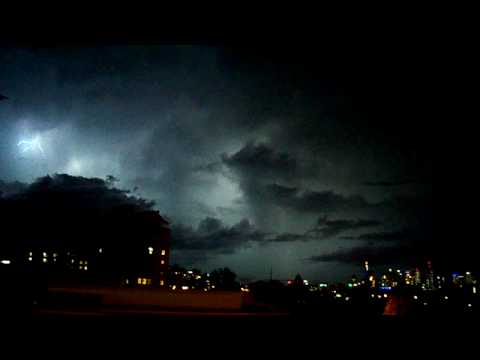 This past week has been totally frustrating and terrifying for residence of Brisbane and the outer suburbs in South Eastern Queensland.  It all began on Sunday when the suburbs were hit by a massive thunder storm, blacking out 145,000 homes, and dumping 70 mm of rain in 30 minutes, tearing the roof off dozens of homes under cyclonic conditions and saw the death of a young man trapped in a storm water drain. Now normally we would go 'oh that's bad', 'oh those poor folks', we might make a donation or 2 to help them out, call family and friends in the areas and all the usual reaction to such events.
That would have been that, BUT whilst still cleaning up, restoring power, tarping roofs and delivering supplies, the area was hit by yet another storm, this one was a mother of a storm, Dropping over 200mm NO NOT A TYPO. 200 mm 20 cms or 10 inches of rain in less than two hours.
Don't Believe me then watch this:
Several thousands homes once again lost power, sustained damage, and many of them were the same homes hit by the first storm.  But it hasn't ended there, last night another storm Yes a 3rd in 5 days past by, this one casing havoc in a mining town called Blackwater, once again, homes lost their roof, power and were flooded.
The upside, if there is one, creeks which haven't seen water for more than 12 years are flowing, rural farm dams are full, town water storages are over flowing, paddocks will be green, stock will have feed and farmers will be reaping the rewards for years to come.
However there is more coming and storm warnings are being issued for the next few days, and still the Cricket goes on, Australia v New Zealand at the Gabba. The world might come to an end tomorrow but nothing gets in the way of the Cricket.
Australia has been in drought for many years now, with town's water supplies either gone or undrinkable, farmers shooting or selling stock, orchards being mowed down, crops failing and water restrictions and fines nations wide.  The first storm was being touted as a once in 25-year event, however these past 5 days are unprecedented.
There are two topics on the lips of people these days, the possible Looming Recession and Climate Change.
Slowly these storms are being held up as the start of the extreme weather conditions we can expect.  My family were looking at possibly moving to Queensland, but after these events we are reconsidering our options.
Would you consider moving here now?
No answers so far have been forth coming, if this is the start of the extreme weather conditions we have been warned about what precautions will you be taking?
Perhaps it is the drought breaking and a culmination of the Countries prays being answered all at once.
Climate Change?
Or just the drought Breaking?
Part of the Natural Cycle perhaps?
your thoughts, comments most welcome!
The cyclones haven't arrived yet! That's next month