So, flower folk it's time I reported on some more of the activities I've been getting involved in here at the OSHO ashram in Pune.
The early Morning dynamic meditation started at 06.00am and resisting the temptation to settle for the early morning sleeping version, showered and stepped into my maroon robe and headed to the dark side of the moon auditorium where I joined white robes inc at the insightful evening meeting the night before.
Dynamic Meditation was due to last one hour and the black robed, white belted instructor announced that if we couldn't take the full hour then leave now and once the session had started nobody would be allowed to join in as I prepared for one of the most surreal hours of my life on this earth………..
Dynamic meditation is in five stages and can of course be done alone for those wishing to try at home, in the office or on the tube but and will be 'even more powerful if it is done with others' (OSHO). However, it is an individual experience so you we were advised to remain oblivious of others around us, keep our eyes closed throughout, preferably using a blindfold.
"This is a meditation in which you have to be continuously alert, conscious, aware, whatsoever you do. Remain a witness. Don't get lost. While you are breathing you can forget. You can become one with the breathing so much that you can forget the witness. But then you miss the point.
"Breathe as fast as possible, as deep as possible; bring your total energy to it but still remain a witness. Observe what is happening as if you are just a spectator, as if the whole thing is happening to somebody else, as if the whole thing is happening in the body and the consciousness is just centered and looking.
"This witnessing has to be carried in all the three steps. And when everything stops, and in the fourth step you have become completely inactive, frozen, then this alertness will come to its peak." Osho
First Stage: 10 minutes
I Breathed as chaotically through my thankfully clear nose as I could concentrating always on the exhalation for the first 10 seconds at least. Assured that 'my body will take care of the inhalation and the breath moves deeply into the lungs' it was easier said than done. I was as fast as I could go in my breathing, making sure it was as fast and as hard as possible without blowing my nose or turning the marble floor green.
'Become the breathing. Use your natural body movements to help you to build up your energy. Feel it building up, but don't let go during the first stage' encouraged our instructor that I squinted moving around through the 30 or so maroon robes spluttering away for the remaining 9 minutes at 50 seconds. It was hard work, plain and simple and I worried about popping either a blood vessel or breaking wind.
Second Stage: 10 minutes
"Explode! Express everything that needs to be thrown out."
How about me I thought? This part was fun actually, encouraged to "Go totally mad. Scream, shout, cry, jump, shake, dance, sing, laugh; throw yourself around and hold nothing back" so I started breakdancing a little whilst making the sound of a cow. Sorry, it was the best I could do whilst aspiring to master the moves of year-year as shown here because I know I've got soul: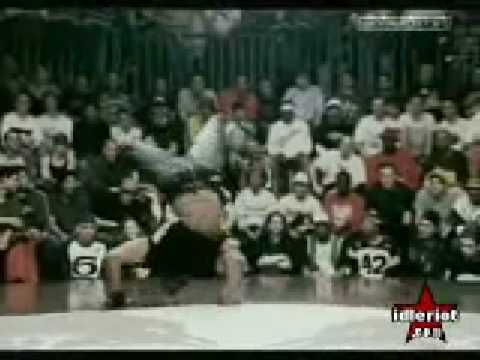 A dosed dived into a caterpillar, changed my animal noise to a distressed sheep and then dropped into a windmill BUT with no chance of a circle forming around me as I carried out but with no applause. Maybe music would have helped instead of everyones letting go noises which included tears, screaming, banging the floor, spinning, skipping and anything else you think of when you hear the words Monty Python.
Inspired to keep my whole body moving this breakdancing got me on the right track without my mind interfering telling me that going into the turtle move after the windmill just wouldn't work. Be still mind.
Third Stage: 10 minutes
No for the real tall order as I followed the eyes closed / blindfolded gang and raised arms vertically above my shoulders whilst jumping up and down shouting the mantra, "Hoo! Hoo! Hoo!" as deeply as possible. I had to ensure that each time I landed on the flats of my feet I let the sound hammer deep into my 'sex center' as it is referred to in the handbook which also suggested I 'give all I have & exhaust myself totally.'
My calves where absolutely shot but amazingly I kept my arms up and allowed my competitive streak to shine as I ensured my tarzan grunt was the loudest.
Fourth Stage: 15 minutes
Now was the rest I needed as we were told to 'Stop! Freeze wherever you are' so in whatever position I was in that would be it for FIFTEEN MINUTES where arranging the body in any way wasn't allowed. A cough, a movement – anything would have, apparently dissipated the energy flow and the effort will be lost and all I wanted was to sit down and rest my calves.
This idea is to be a witness to everything that is happening to you in between me peaking at others around me some of whom had left their hands up in the air. Ouch – 15 minutes of that! Anyway I desperatley wanted to start body popping but didn't have the courage so stayed still, sweat dripping down my neck, into my ears and working it's way around my saturated maroon robe.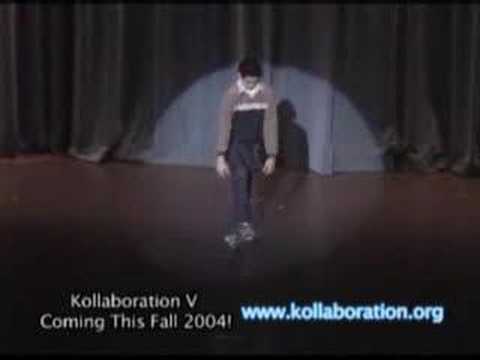 Fifth Stage: 15 minutes
Pretty much a free for all now as the auditorium 'celebrated through dance, expressing our gratitude towards the whole' whilst trying not to bump into anyone blindfolded and without slipping on the sweaty cold marble floor.
Lights on, class over as we left encouraged to carry our happiness with us throughout the day not even giving me a chance to pull of another windmill or caterpillar. I opted for staggering out and heading back to my room for a shower and another episode of the Sopranos and must admit I felt wide awake after that hour as I left the rave.
Did you click on smiley by the way?
After another shower, nap & 2 Soprano episodes I decided to get amongst a few of the guests here at the retreat – they're human as well, right and my own take on all this needed other insights to spur me along.
As this lush campus is split by the road you have to leave and show your meditation day pass to come and go so I flashed my pass to a small wiry bloke with a long shiny silver grey breads and wise eyes – a yogi perhaps who gave me the 'you're OK son, please proceed'.
Having walked by the OSHO shop & the OSHO Multiversity (still to explore) I passed maroon robe couple hugging – not in the 'we're a couple' way, just a ' we've bonded, we understand and we're enjoying this moment'. Fair enough – not something seen everyday so good for them but the more I looked for it the more it was clear the hugging was big here.
Can't hug when I'm hungry so I had my virtual money marked off on my voucher and 'paid' for my lunch and sat lapping up a delectable veggie curry in my Maroon robe and got talking to a blank faced bloke from Holland. He put down his copy of the OSHO times and introduced himself as 'Christ' and had been at Osho for a month and this was his annual leave from the 'real' world.
I wondered what brought him here, how he had changed and what experiences he had and if he could breakdance like me, laugh, or more likely, cry. He found his solace in playing the drums at the OSHO gatherings and helping out 'working' around the place and I left feeling sorry for him and gave him an over enthusiastic pat of the back just as he lifted his soup spoon to his mouth, dropping it as the clatter caused more purple robed to see what had happened.
Note to self – Hugs are good, back slapping during mealtimes not so good.
It was time to leave 'Christ' or was I being cynical but no, if I didn't get OSHO, the group if Israelites clustered around another table certainly didn't. Their conversation revolved around mobile phones and client contact software, how inappropriate, I though, here at OSHO how dare they – they'll be talking about the price of the latest OSHO book they bought next.
Returning my tray of empty plastic dishes another maroon robe appeared – A German guy who was with OSHO 29 years ago, used to teach healing here but left a few years ago. He reckoned that OSHO was poisoned by the CIA / FBI and bit by bit his health deteriorated.
Now living off site but 'eats here all the time' and has his own silver jewelry business which sustains him nicely.
"NOW is a great time to buy silver my friend"
"I don't wear jewelery" I replied showing him my empty and unmarked wrists.
"No I mean buy as in trade, people watch gold, oil and apple stocks butsilver is the one that will increase 5 fold in the next 2 years, just you wait".
Wow. I chuckled at the thought of a Zen like ticker tape stream being played under the OSHO screen at his evening discourses. Ohm. So what was drawing him to the place now that he wasn't teaching the wisdom of OSHO? The peace, the spirituality or the opportunity to meet women, have random hugs or trade silver and close the deal quickly with an uncluttered focus? Maybe it was a simple as those who want to celebrate life, to come out of a cul-de-sac of depression, misery, melancholy moods and fears or was it just a change is as good as a rest?
I wondered. I really was starting to wonder but keeping the open / no mind approach it's time I visited the OSHO Mutliversity center and book myself of a course, after another meditation class as there's so much to chose from. I realised I was out of 'virtual' money and needed to get cash out to top up my credit and buy more vouchers so with no cash on campus I'd have to de-robe and leave campus.
More tomorrow as I work out the cash / card thing, pick a life course on offer here, try another meditation and return with clarity as I intend to stay in tonight and crack into the second season of the Sopranos. What with the main boss inside, Tony and his panic attacks and the therapist getting to him who knows what can happen but either way at least they have a living head – after OSHO had several attempts on his life and died, nobody took over from him!
Hmmmm.
Who does run OSHO now, I wonder?
All comments and questions relating to this article are much appreciated as my journey continues….